The Faculty of Education represents the only workplace within Trnava University where science and education takes place in pedagogical study and scientific fields. The faculty guarantees and provides complex education for teachers of nursery, primary and secondary schools, prepares instructors and social teachers and as well specialists in the field of preschool pedagogy and fine art pedagogy.
Study programmes of several field didactics and also of elementary pedagogy are carried out within PhD study at the faculty.
The research and education at the faculty are supported by modern technical equipment, specialised laboratories, studios, classrooms with audio-visual technology and qualified personnel at departments.
The education at the faculty is carried out in a form of full-time study and part-time study in some study programmes. Apart from the regular university education, the faculty also ensures education activities within lifelong learning of teachers.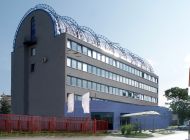 Priemyselná 4, 917 01  Trnava
Tel.:+421-33-5514 618
E-mail: sekdekpdf [at] truni.sk (sekdekpdf(at)truni.sk)title=""
pdf.truni.sk