Trnava University in Trnava cooperates with various outstanding companies from Slovakia but also from abroad. A list of companies Trnava University has been cooperating with for a long period follows:

City of Trnava cooperates with Trnava University very intensively and helpfully in the field of investment development and scientific, cultural and sport events which significantly contribute to...
---

EUNIS Slovensko
represents an association whose mission is to create conditions for effective cooperation of Slovak universities predominantly in the field of development of quality information systems. Having also its representatives in the presidium of EUNIS Slovensko, Trnava University has been a duly member of the Association since 2002.
---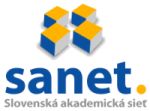 SANET SK
is an association securing operation of Slovak academic network connecting all university cities by a technology of not spotlight optical fibres. Trnava University acquired an optical connection in 2003, when a metropolitan network within a project SANET 2 was implemented.
---

Slovenská sporiteľňa, a.s. and Trnava University in Trnava concluded an agreement on cooperation on the basis of which several collective projects were executed, for instance: a construction of PC rooms at Trnava University Rectorate. 
---

Oracle Slovensko represents a significant partner of Trnava University in the field of supplementing of Sun Oracle hardware products. Mike Eberhardt, a representative for Central and Eastern Europe and Africa of Sun Microsystems, Inc. of that time, visited Trnava University in March 2007.
---

Tempest, a.s. Bratislava
is a partner of Trnava University which has been taking part in design of hardware infrastructure and system structure of university central communication knot to a large extent in the last several years. More than 150 Sun Ray stations administered by a software tool RayMote have been installed at the university. An article about successful collective project was published in a magazine Trend.
---

Dupres Consulting, s.r.o. Dubnica nad Váhom
represents a long-term partner of Trnava University in development and implementation of strategic front office e-learning systems and systems of study agenda management. A project MAIS represents one of the priority tasks of the university which cooperates with the Technical University in Košice and Prešov University in Prešov on its implementation.
---

Cominfo, a.s. Zlín
is the most significant partner of Trnava University in the field of information and communication technologies and the university has been cooperating with it on operation of the catering system CardPay since 2008.
---

EMtest-Sk, s.r.o. Bratislava
has been securing multifunction contactless smart cards for production of cards for students, pedagogues and university employees together with application programme equipment for Trnava University since 2003. As a system integrator, it secures acceptance of university cards in external traffic applications.
---

Združenie CKM SYTS Bratislava
and  International Association Services Amsterdam represent contractual partners of Trnava University which secure international acceptability of ISIC, ITIC a EURO<26 cards when providing discounts.
---

Datalan, a.s. Bratislava
is a partner of Trnava University in Trnava in implementation of projects within operational programme Research and Development. It takes part in modernisation of ICT infrastructure for improvement of teaching process. SVOP, s.r.o. Bratislava represents a supplier of the library information system DAWINCI and has been cooperating with Trnava University on its development and modernisation for a long period.
---