Each of us will be left with only a story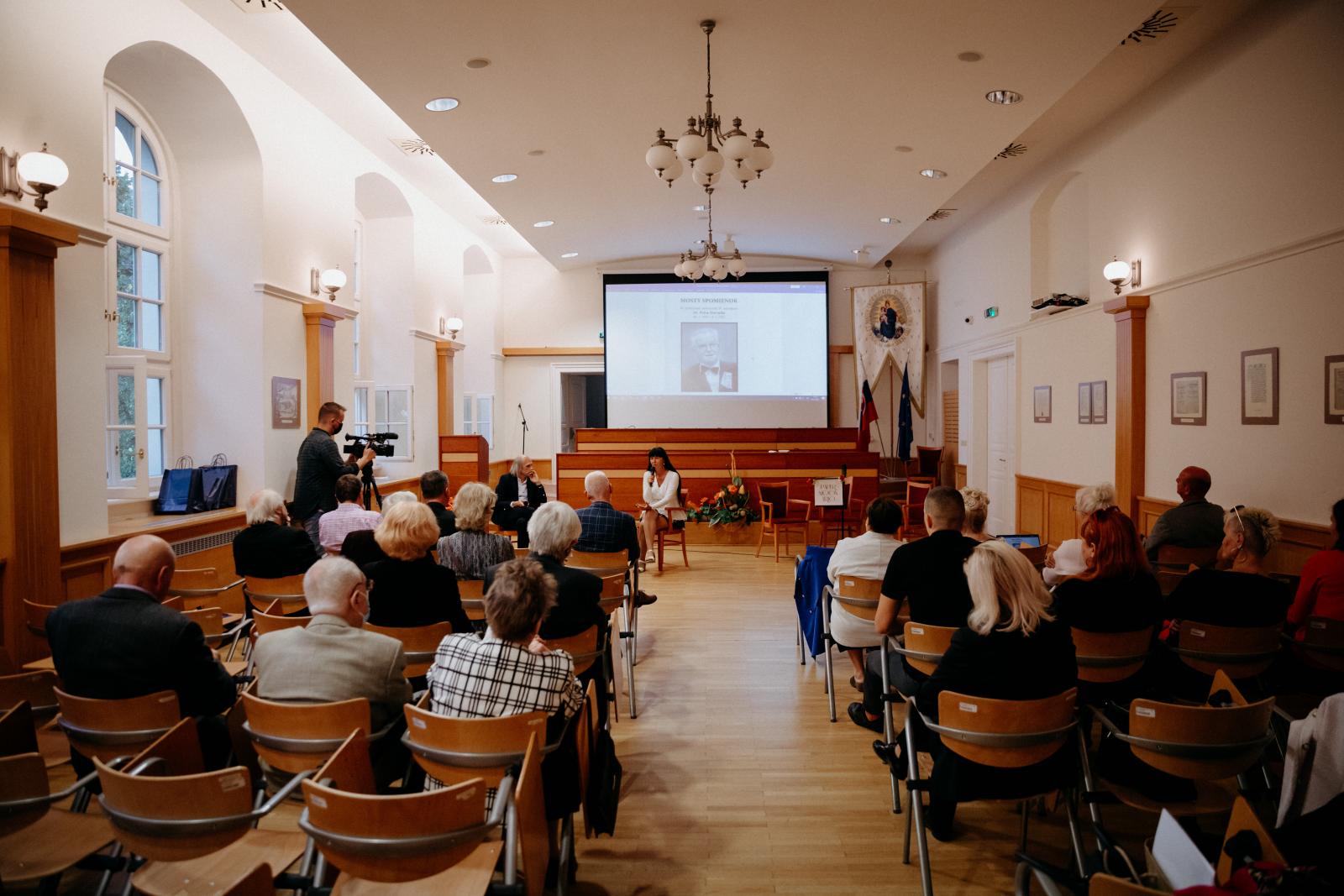 Tuesday evening (September 28, 2021) in  "Pazmaneum", the auditorium of the Trnava University belonged to the "Bridges of Memories". Event took place to honor an important figure in the cultural life of Trnava and an honorary citizen of "Little Rome", RNDr. Petr Horváth (1943-2021), who was also a member of the board of directors of Trnava University.
The event organized Trnava University in cooperation with the Juraj Fándly Library in Trnava.
In the chair of the guests who mentioned RNDr. Petr Horváth were vice-rector of Trnava University, prof. Vladimír Rábik, publisher Daniel Kollár, diplomatist Daniel Belanský, and daughter Gabriela Horváthová Giotto. The director of the Juraj Fándly Library in Trnava, Pavol Tomašovič, conducted interviews and accompanied the evening.  Each of them revealed some of the professional and sovereign personal experiences of cooperation and deep friendship with a rare person, which Peter Horváth undoubtedly was.
A great revival of the whole evening was the charismatic performance of the music trio Paper Moon Trio, which completed the Bridges of Memories with period music in an unmistakable modern presentation.
"Each of us will only have a story left once, so we should try to make it as beautiful as possible. Your participation today is proof that Dad created his tapestry of a life story in a creative, full-fledged way and that he touched the minds and hearts of many people. Although he worked for twenty years of his professional life at the Ministry of Culture of the Slovak Republic in Bratislava, he always used all his competencies for the benefit of his beloved Trnava, for whom he breathed every cell of his being, "said Gabriela Horváthová Giotto.
"He is the author of the brilliant project Trnava Days of Tolerance (love, peace, and understanding), which can be an example for all other cities not only in Slovakia but also in the world. Its size and wisdom also lay in the fact that he focused on presenting his guests - foreign Trnavians or Slovaks with ties to his hometown - in the most beautiful and best possible light. "He was able to capture the essence and spirit of their personalities. He wanted to pay tribute to them on the boards that signify the world," said Gabriela Horváth Giotto. "Although they took their wings of ambition far into the world, he wanted to give them a reason not to forget their roots."
photo: TRUNI/Barbora Likavská