The basis of our university life is a symbiosis of education, research, and art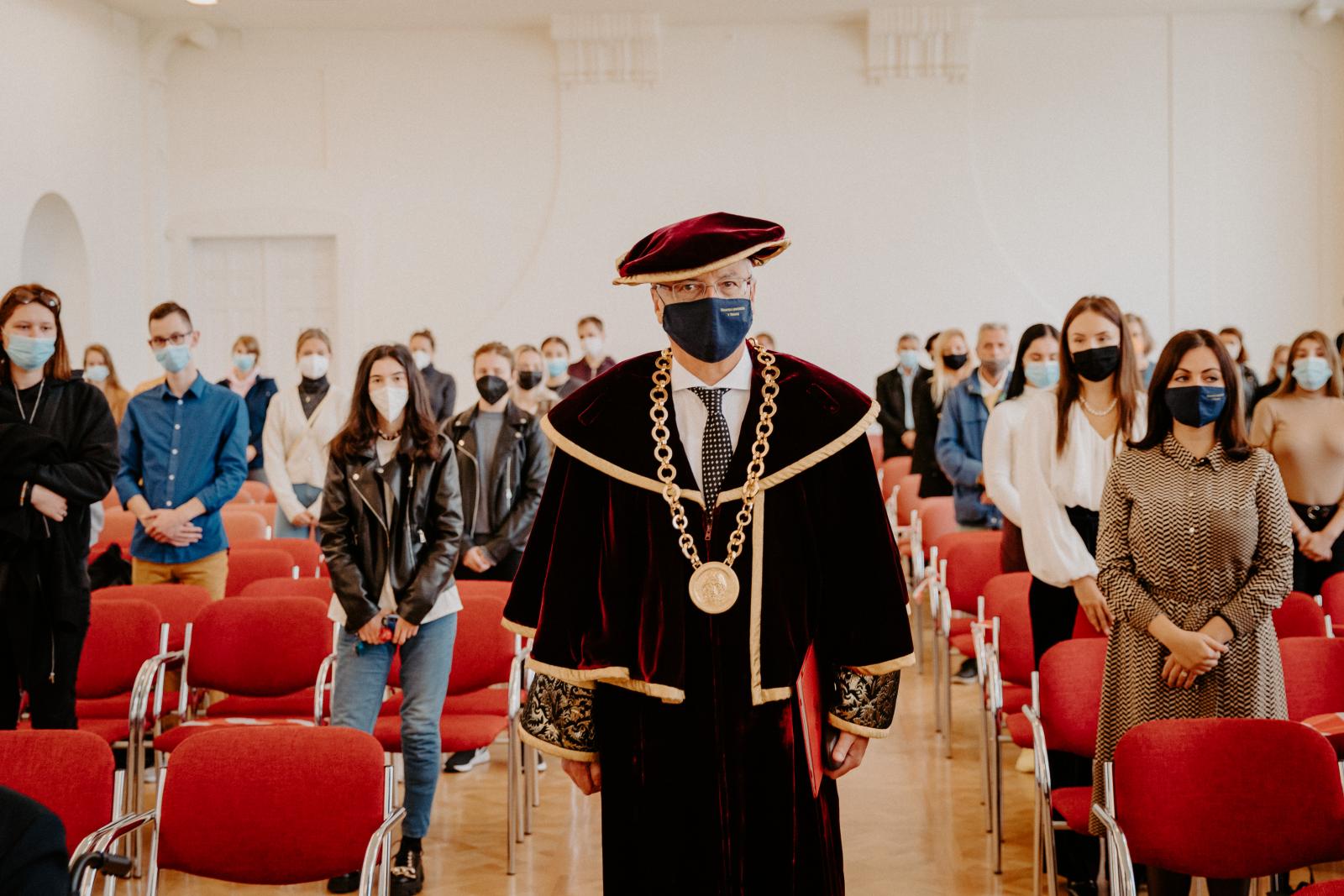 The new academic year 2021/2022 ceremoniously began at Trnava University on Monday, September 20, 2021. The academic community met at a celebration in the Marianum auditorium on which the rector awarded students and introduced the winners of the Anton Hajduk Award, Martin Palkovič Award, and new TRUNI associate professors.
The basis of the existence and functioning of our alma mater is an inseparable symbiosis of education, scientific research and art
The last time I spoke to you on the occasion of the opening of the new academic year was in September 2019. A year later, this was no longer possible and I was left with, so to speak, an electronic path. I am all the more pleased with today's possibility, even though, I admit, my colleagues and I have been tormented until the last moment in fear for that possibility. In the end, we seem to have overcome the pitfalls of a difficult situation and the meeting is taking place. Although the ceremony associated with the opening of the new academic season is one of the traditional ceremonies, ours this year deviates in its content from the framework of the scenarios used so far. Exactly the same circumstances that prevented us from meeting last year on an occasion such as today also prevented us from holding other celebrations, especially those that we associate with the appreciation of our exceptional colleagues, teachers and scientists. Therefore, even though the awards have already been received, we will commemorate them here today, in this solemn place. We will imagine them because, together with excellent students, their presence is an excellent opportunity to remember, especially now, after more than a year of personal meetings, the meaning of the existence of our university. Students - teachers - scientific-pedagogical, scientific research and artistic workers. Such is the composition of the academic community of Trnava University in Trnava. It reminds us that the basis of the existence and functioning of our alma mater is an inseparable symbiosis of education, scientific research and also artistic creation in selected study programs. Through this symbiosis, our privileges, namely our academic freedoms, are revealed or shown to us. The content of the educational offer at the university is not determined from the outside, for example by the state educational program, as we know it from primary and secondary schools, but is exhibited by our creative workers, based on the latest results of science and research, to which each of us in the field in which he works, he contributes his own scientific research work. Given this, we can say that it doesn't matter, and I am addressing this to our students in particular which university you have chosen for your studies. The quality, which is still being talked about all the time, grows out of the ability of university academics to be good scientists and good teachers and to be able to invite and participate in scientific research, the content of the educational offer and the evaluation of this process. The basis for the successful existence of the academic community is therefore a joint dialogue of all its members. I believe that today's celebration will also tell you, dear students, that your choice, which brought you to the grounds of the Trnava University in Trnava, was a good choice.
You are studying at the oldest university in Slovakia
The origin of our alma mater is connected with the name of Cardinal Petr Pázmán. It was he, the Archbishop of Esztergom and Cardinal, who founded Trnava University in 1635. She worked in Trnava for 142 years and in 1777 it was moved to Buda. So you are studying or starting to study at the oldest university in Slovakia. Pázmán's founding act and the history deriving from it are an integral part of the foundation on which the Trnava University in Trnava was renewed in 1992 and on which we still base the identity of our university community today. Next year, we will have the opportunity to return to our roots, because we will commemorate thirty years since the adoption of the law of the Slovak National Council, which took the act of renewing our university.
Defense of self-governing competencies of universities
Dear students,
I mentioned academic freedoms above. I will return to them one more time. The year we spent in mutual separation also showed us everything in connection with these academic privileges. Above all, we have come to a situation which has warned us that even more than thirty years since November 1989, which represented a decisive step by universities from being bound by totalitarian ideology to academic freedoms, they are not a matter of course. Just last year, we faced a political attempt to limit the academic self-government of universities and to open up academic ground to political influence. I am proud to remind you that our Trnava University was the first to show open resistance to political intervention through its self-governing bodies, especially the academic senate, and to enter the strike readiness. It still lasts. I can state that, at least as it is shown after the last negotiations, such a defense of the self-governing competencies of higher education institutions has helped to make the central state authorities behave more rationally towards us. Thank you all for your bravery, which has been and still is a great support to the university management and myself during complicated negotiations.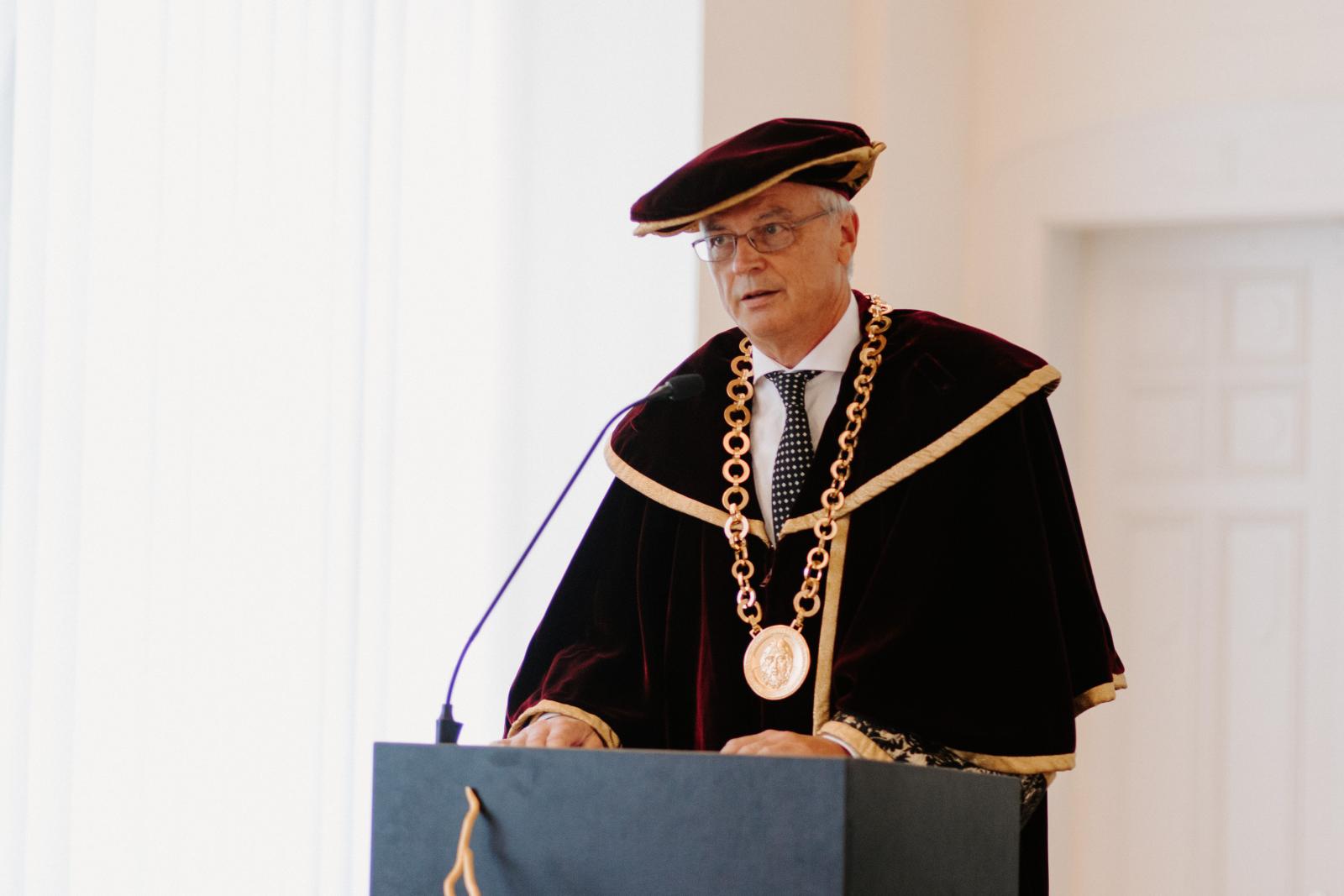 Freedom does not mean doing what I want
A
Academic freedoms are, as has been shown in recent events, associated with a responsibility for them. Freedom reveals herself not only in the tense moments I talked about but also in the daily life of the college. There was talk of scientific research as the basis of our educational offer and educational activities. Science is, above all, revealing the laws of the functioning of nature, when we talk about the natural sciences or approaching the truth about the functioning of the human world of life. That is when we talk about the humanities and social sciences. A common parameter for both of these great circles of science is the emphasis on scientific facts verified in research, interpreted and interpreted by scientists, always concerning for the truth based on either evidence or fact-friendly interpretation. Why do I mention it? Especially because it was the year we lived that revealed a paradoxical situation. For a time, science jumped to the forefront of social trust and at the same time came under fire from social hatred. It happened at a time when proven and still, new knowledge is known, in a frontal collision met with elementary human fears, fear of the unknown, and a little with amazement at the speed of cognition (and amazement is always a mixture of admiration and fear or fear ). At that moment, simplistic explanations and ear-pleasing pseudo-truths became more acceptable to many of us. I would not mention it here if the space allotted for discussion on our university networks did not become an arena in which vulgarity, rudeness, personal insults emerged, all based on questioning the research, scientific evidence, and scientific experience of the researchers involved. Thus, one of the pillars on which our educational offer is based has been attacked. If this is so, and if it is true that our scientific research is part of our freedoms and that cultivated debate is also part of those freedoms, then the very essence of a free university has been attacked. Against this, I believe that I also strongly oppose on your behalf. Academic discussion is necessary and must be open. At the same time, however, this openness also has its limits. These are elementary human decency, respect for a partner in a discussion or controversy, and respect for him. My exercise of freedoms must in no way restrict or jeopardize the freedom of others, and freedom must not be confused with the possibility of doing or uttering anything. In such cases, we are ready to respond and to warn strongly and openly about crossing the limits of freedom of responsibility. The pillar, on which the idea of ​​our university is based, is academic ethics and natural human decency. I am convinced that in this ethical framework, based on respect for each other, we will manage not only the time of the current health threat but also all the challenges that lie ahead.
Dear colleagues, dear students,
Allow me to wish you good health at the beginning of the new academic year, an unquenchable desire for knowledge, for its transmission and acquisition, and the joy of our university community. I look forward to our mutual meetings and cooperation. I hereby consider the academic year 2021/2022 to be inaugurated.
                                                                                                                        prof. PaedDr. René Bílik, CSc.
rector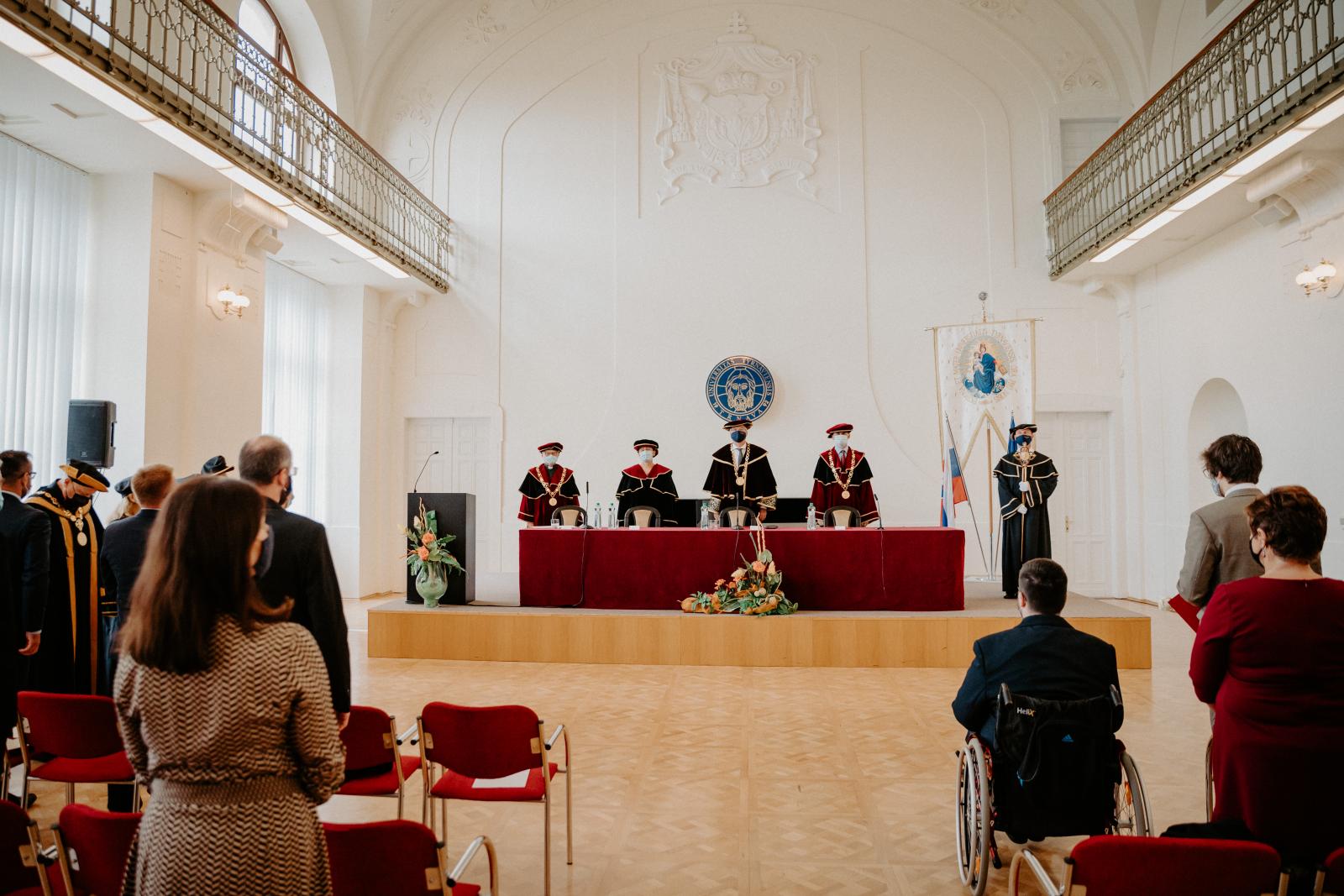 photo: TRUNI/Barbora Likavská